Regular price
$489.99
Sale price
$391.99
Unit price
per
Sale
Sold out
Free Shipping

Wood & Gas Simultaneously

Try for 90 days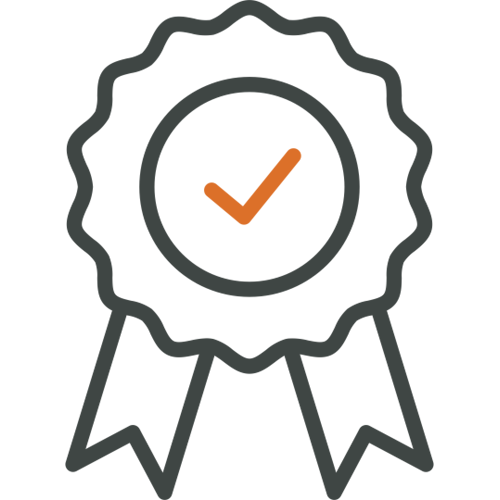 Lifetime Warranty
Features
Bertello 12" Outdoor Pizza Oven
Gas burner
Wood tray for gas burner
12.5" x 13.5" Pizza Stone
Non-contact infrared thermometer
Weatherproof cover
Pizza peel
Wood/Pellet/Charcoal Tray
View full details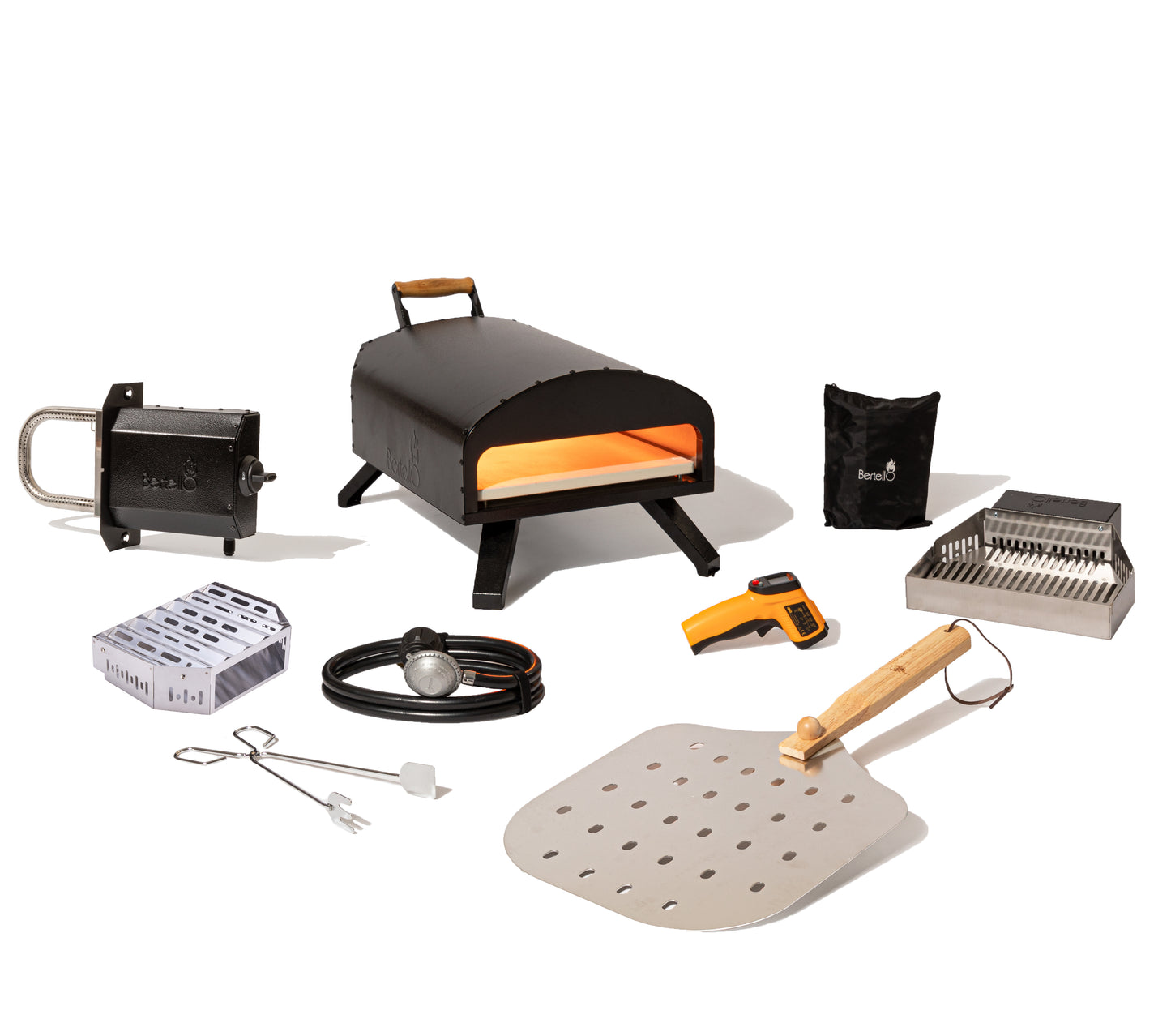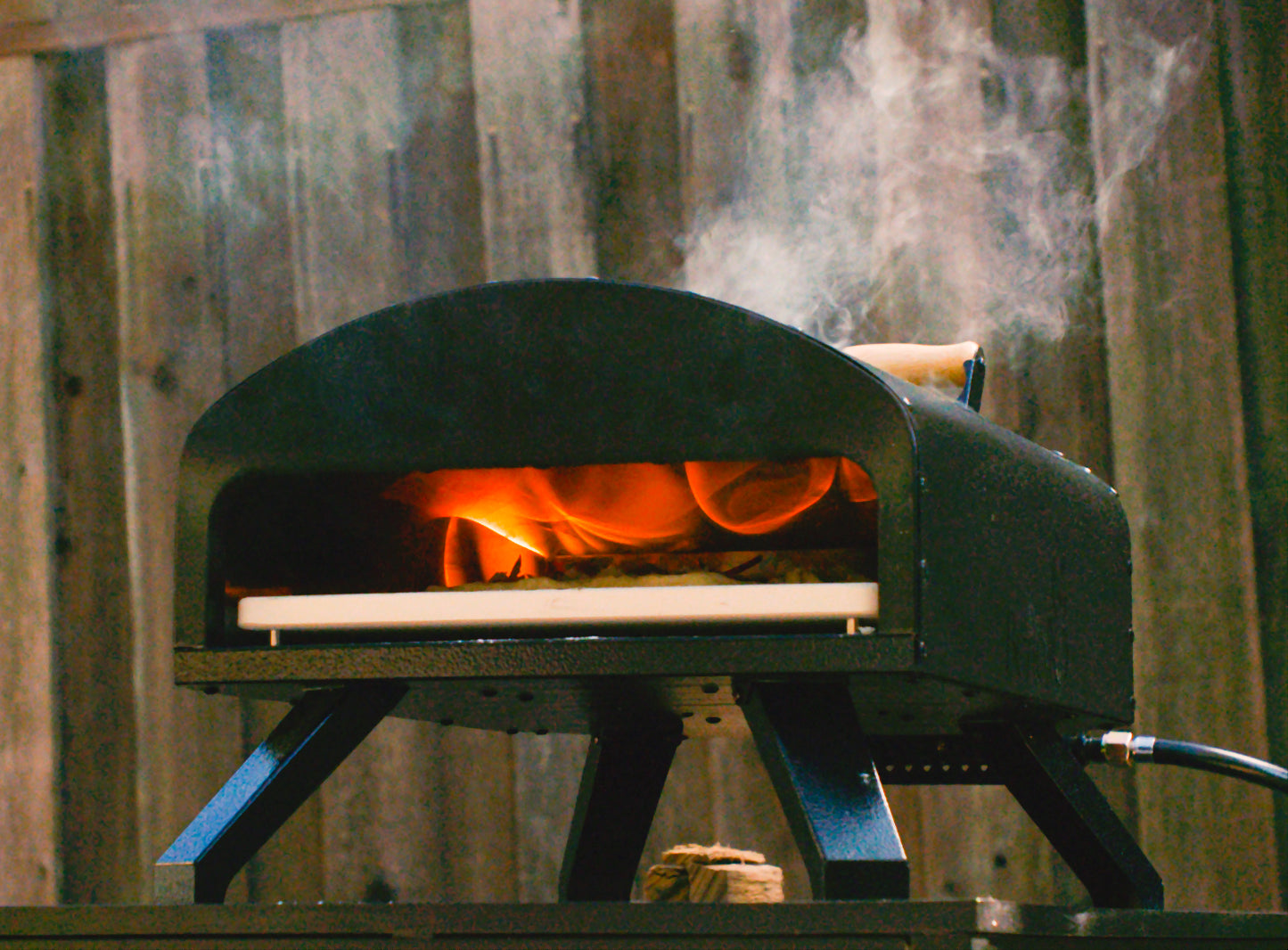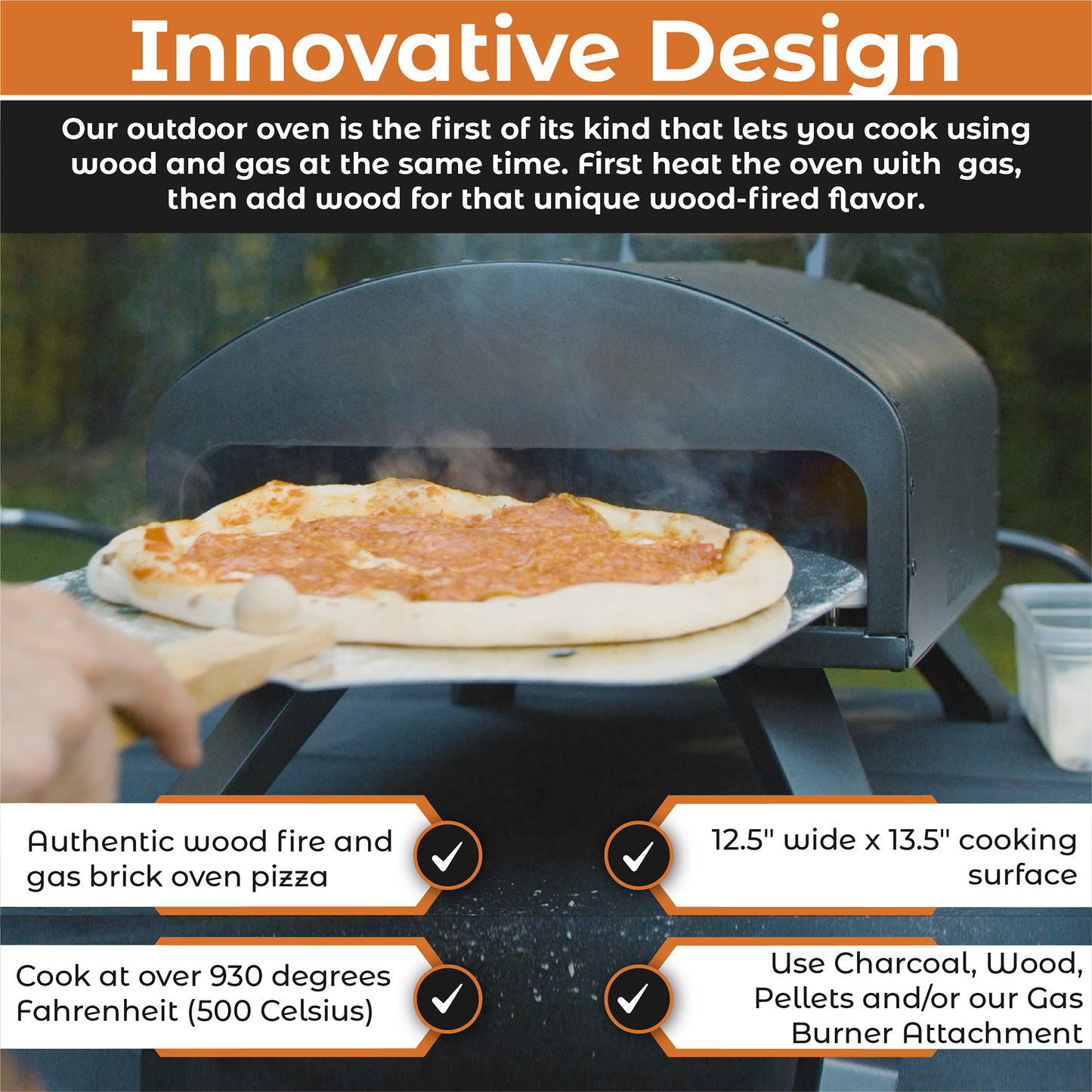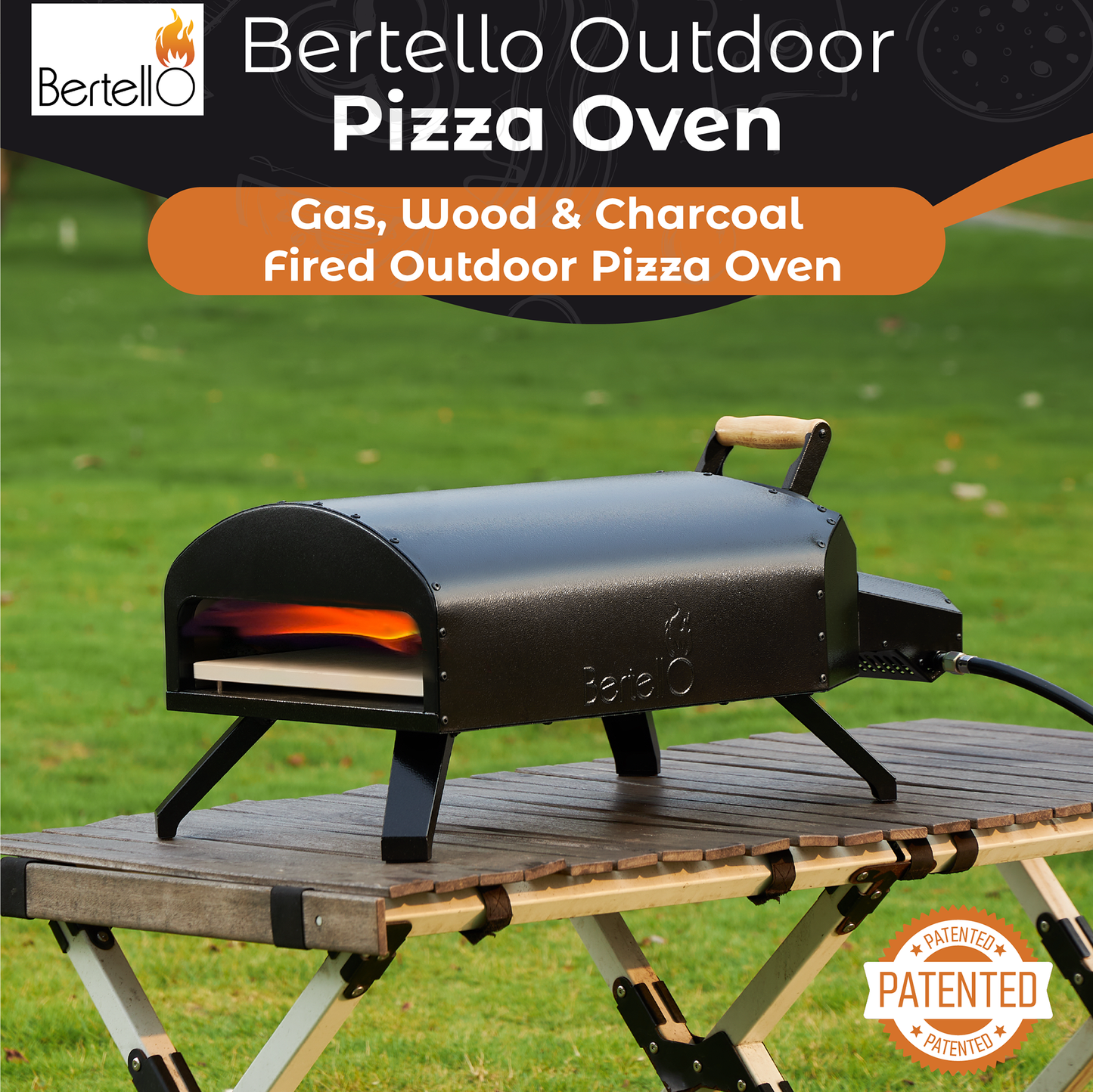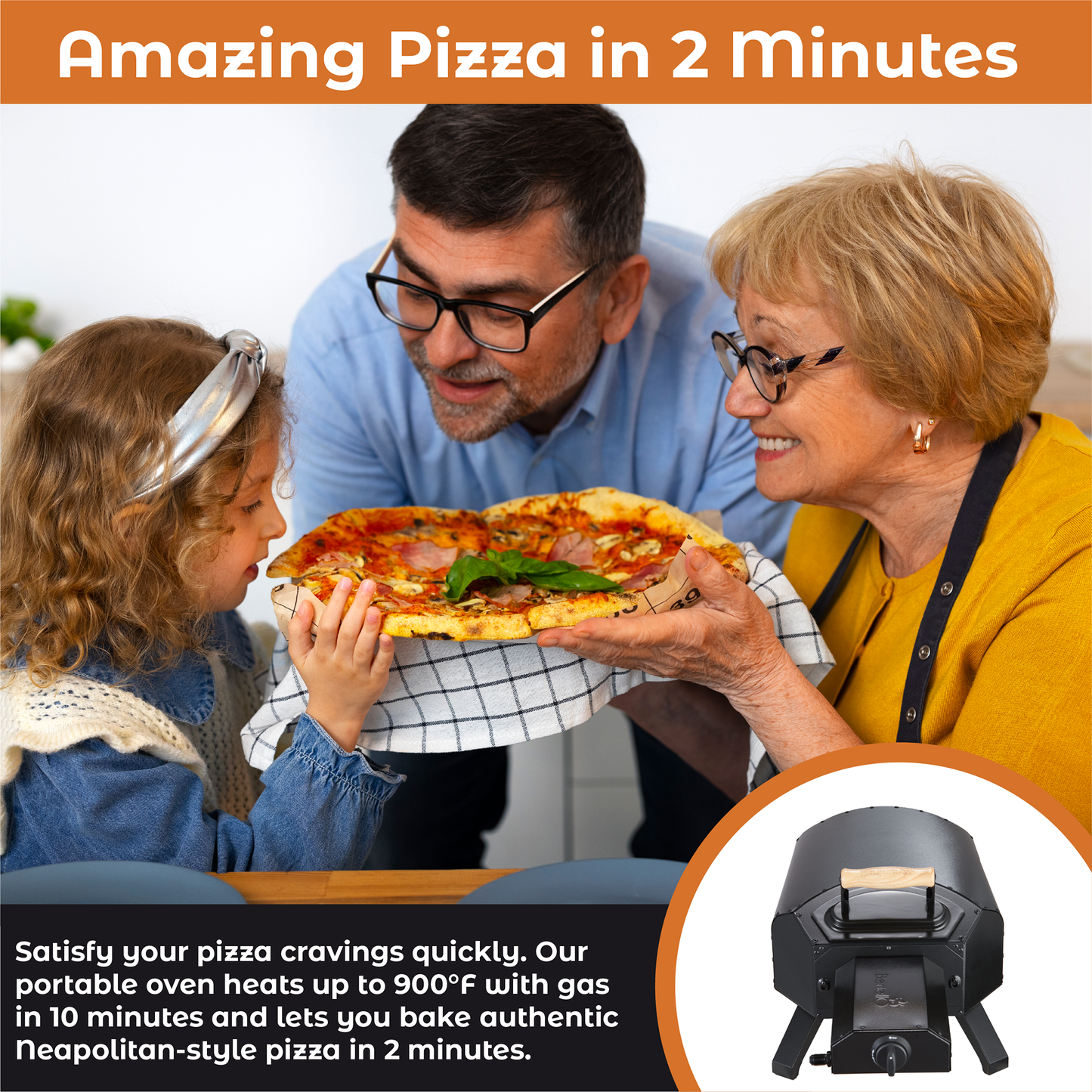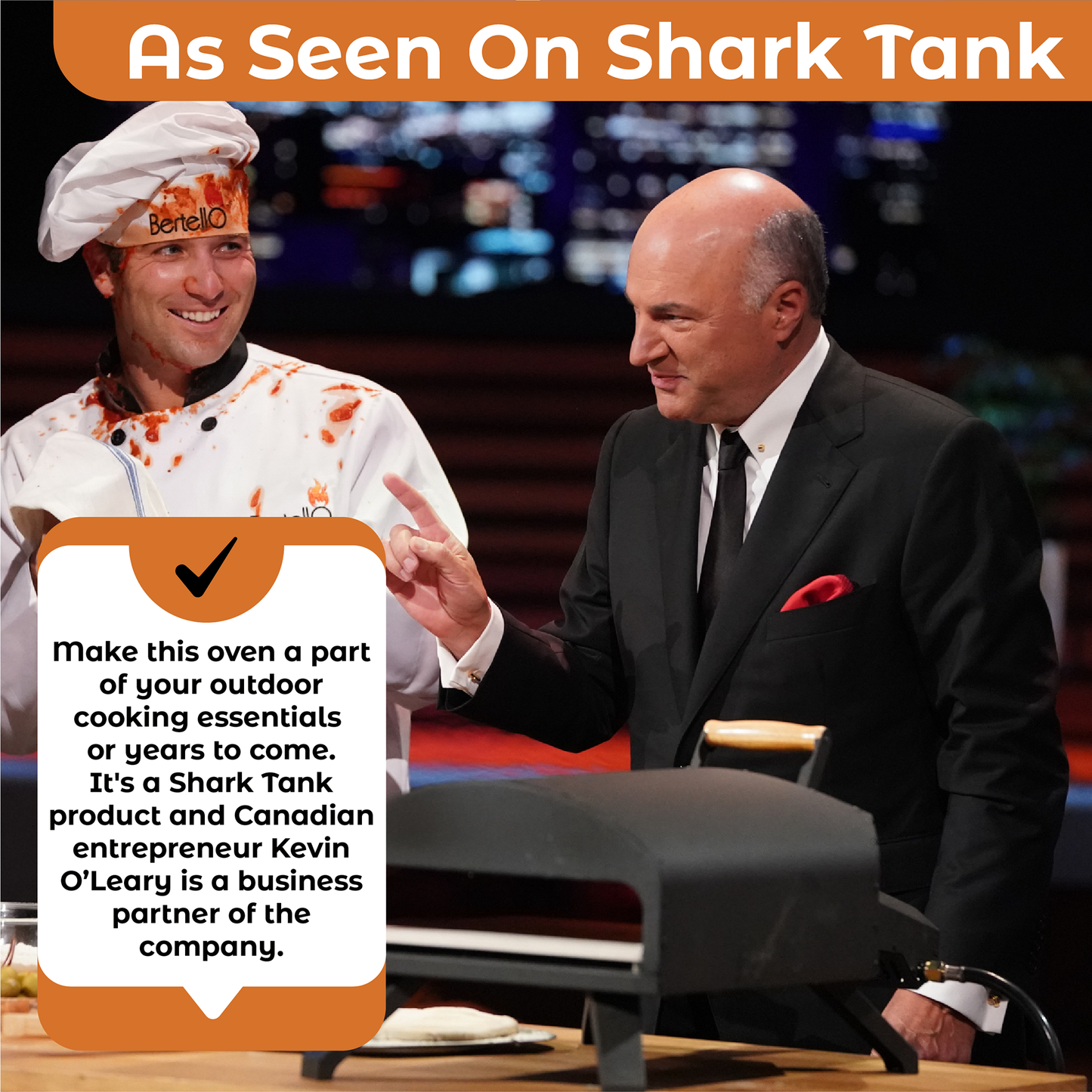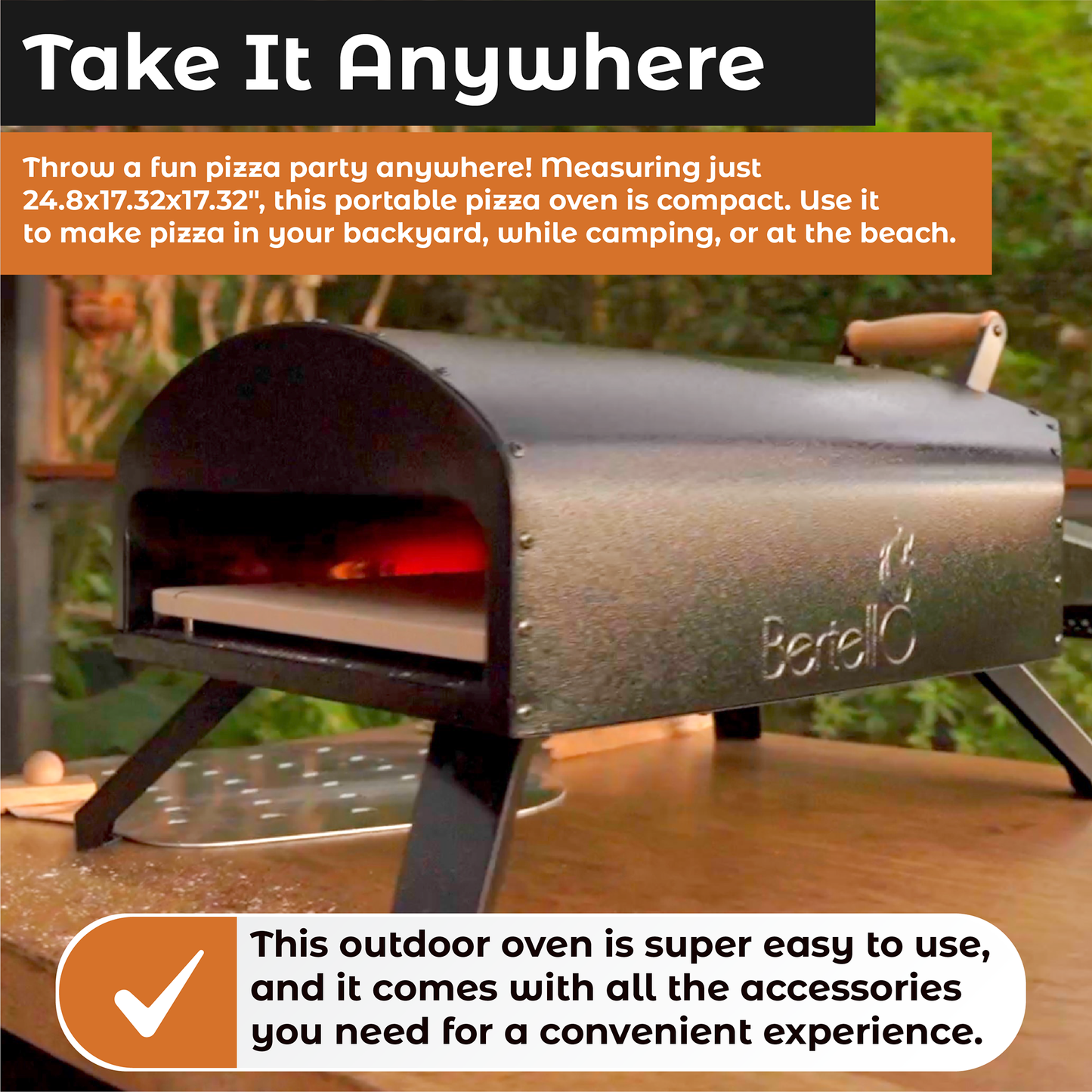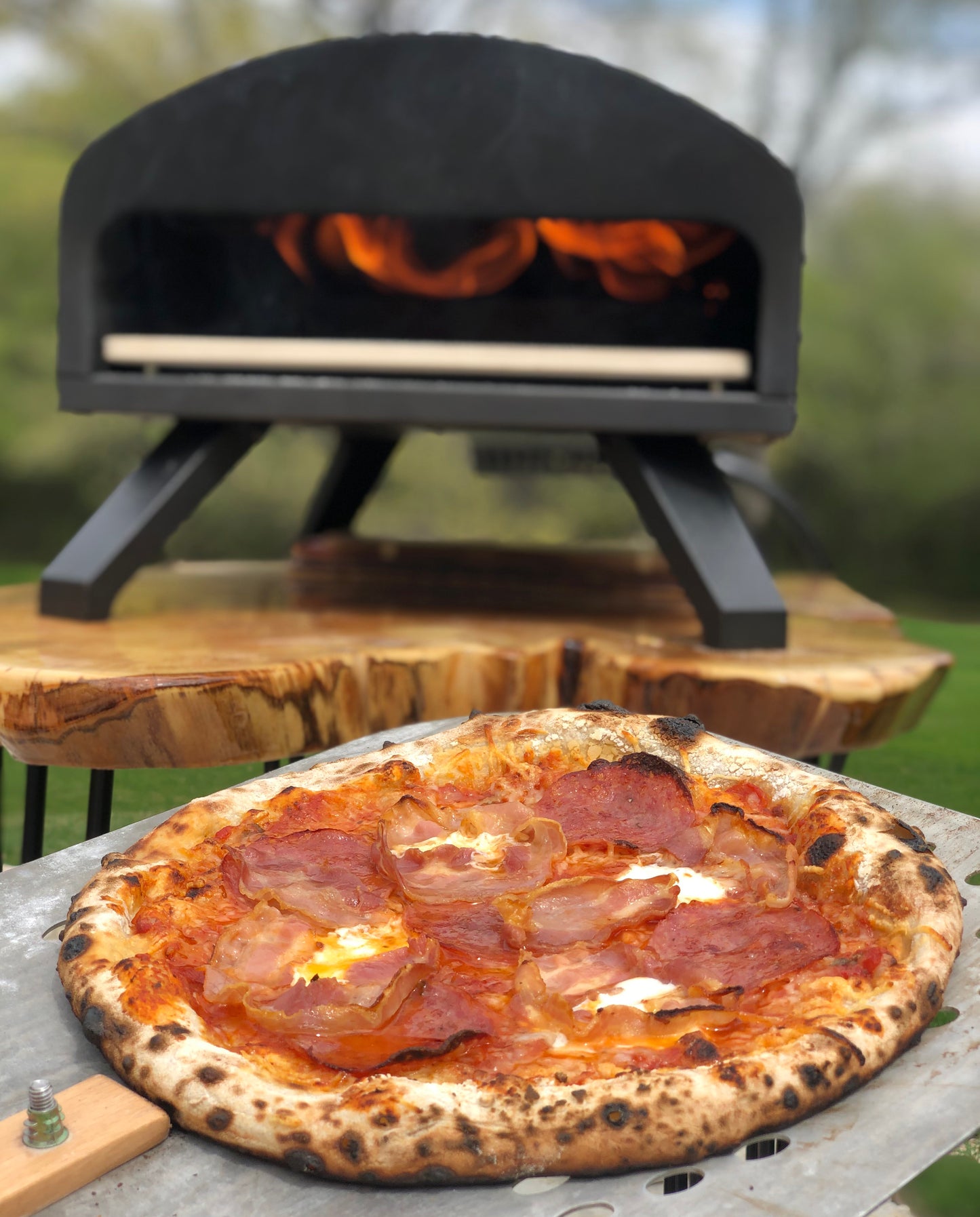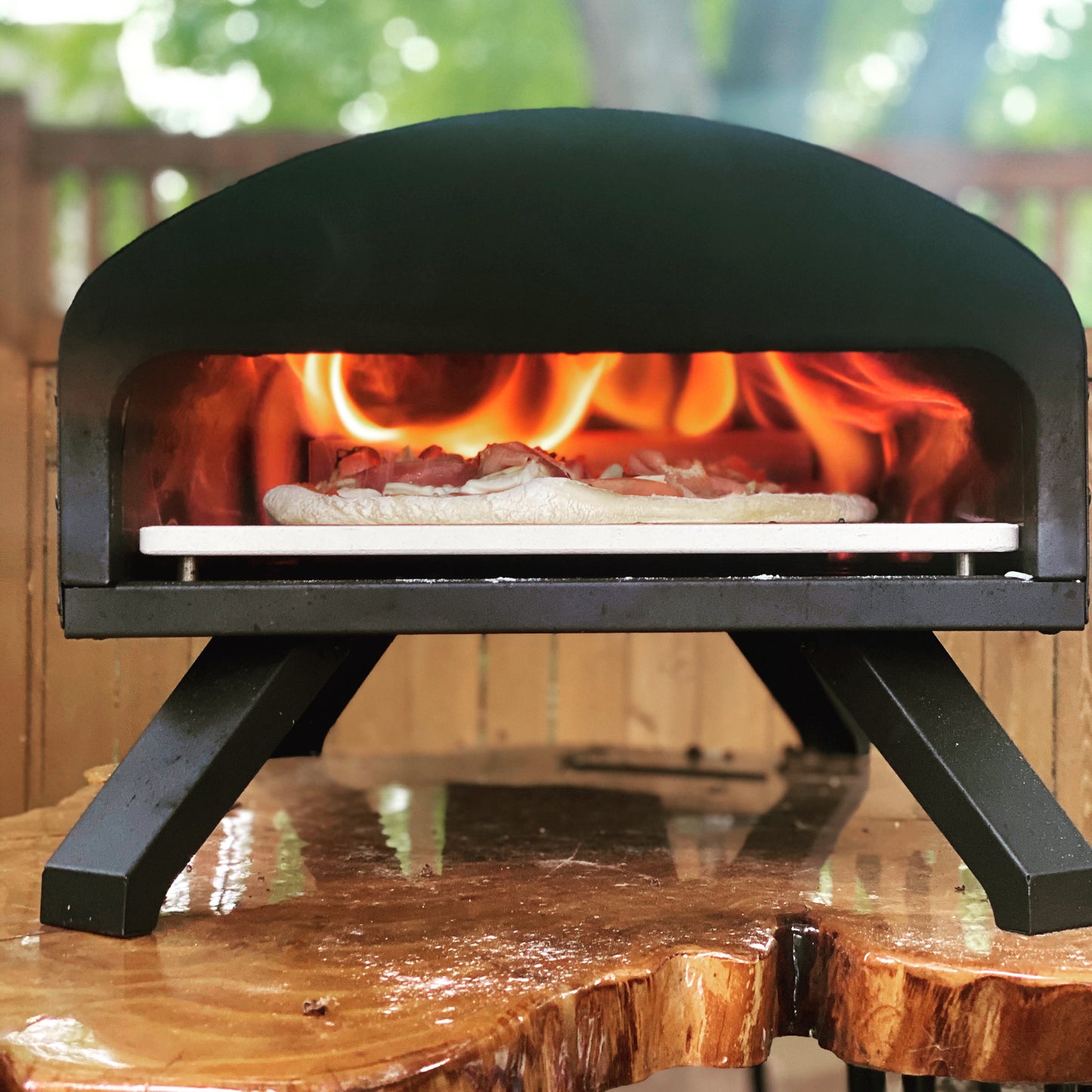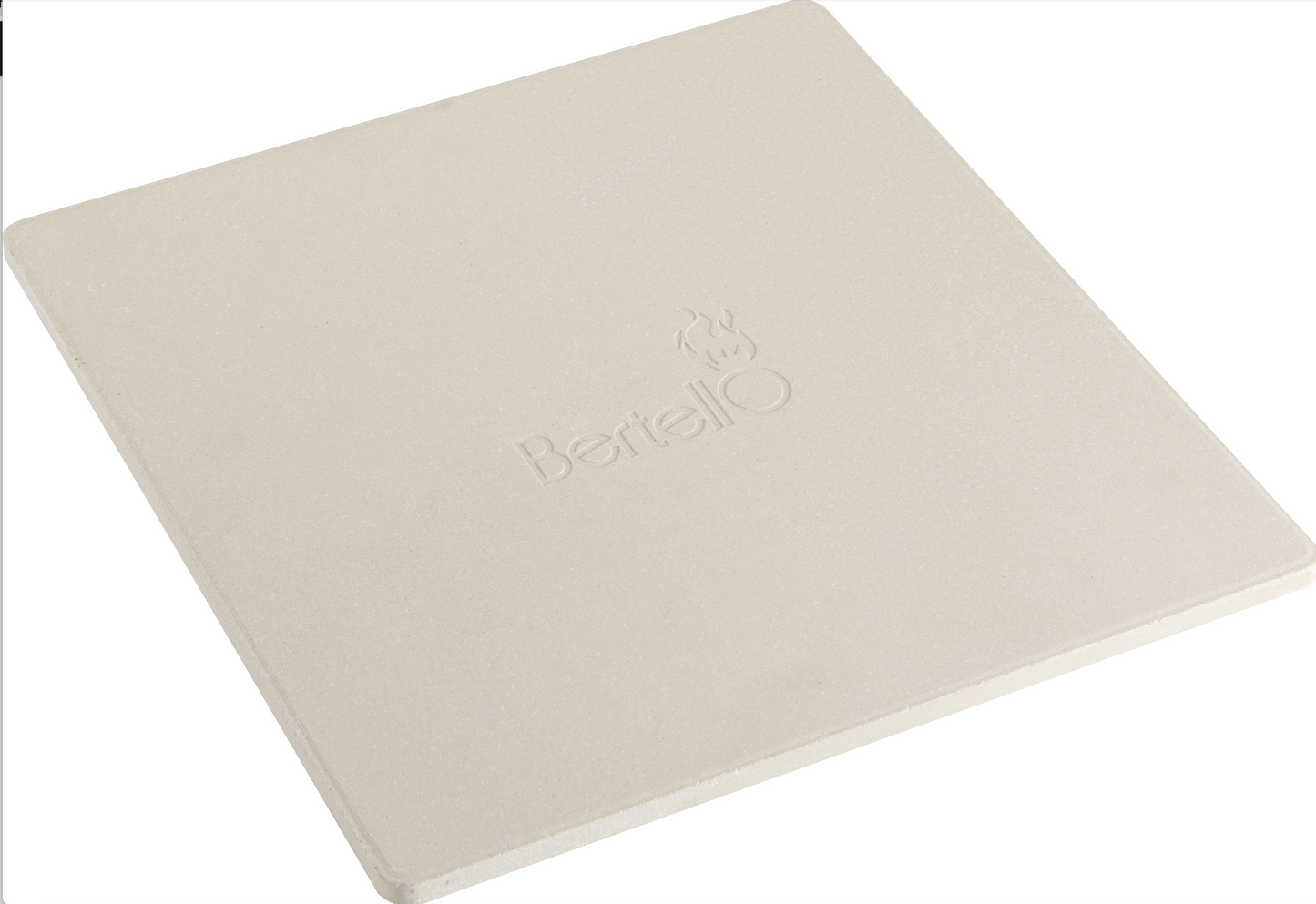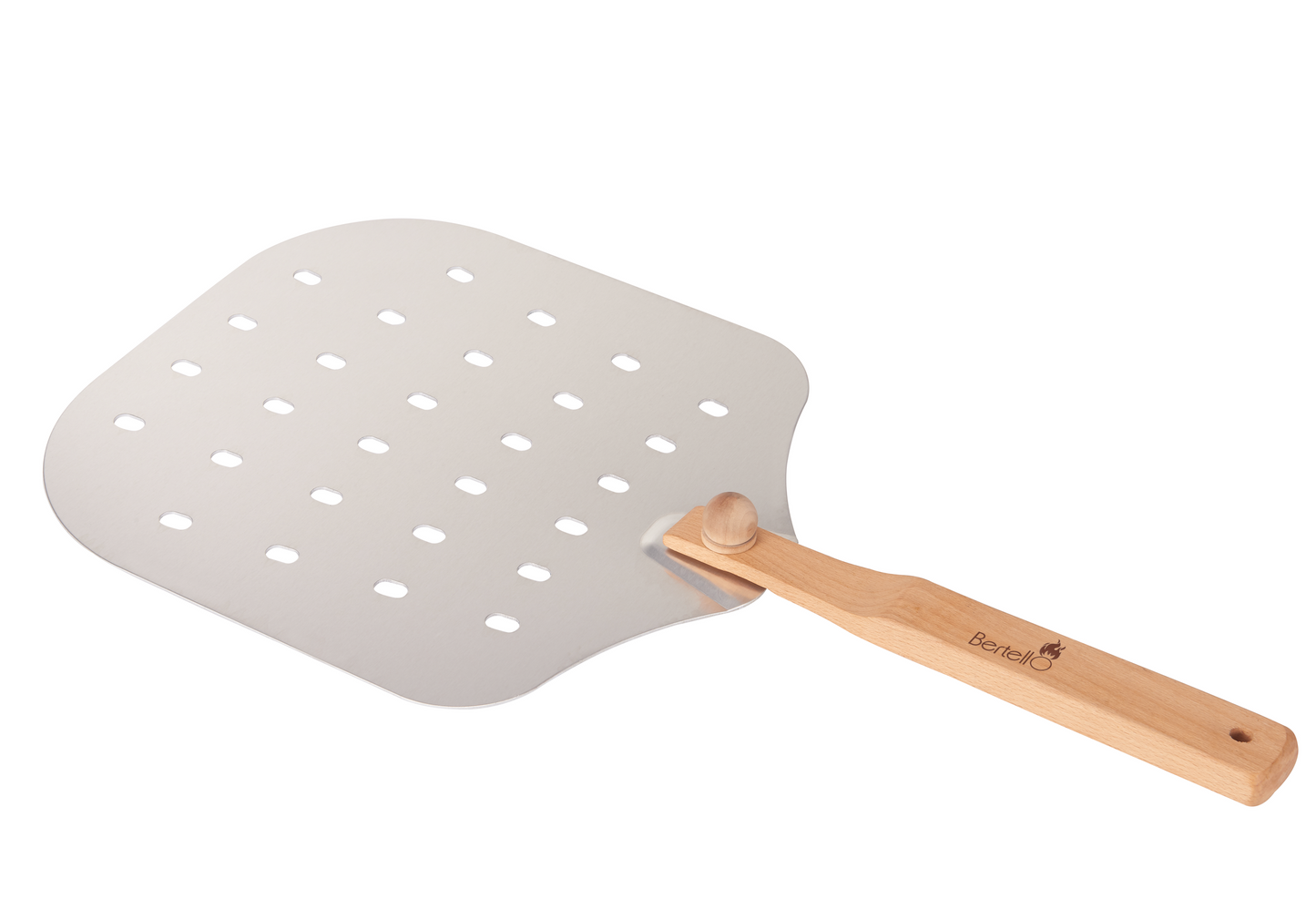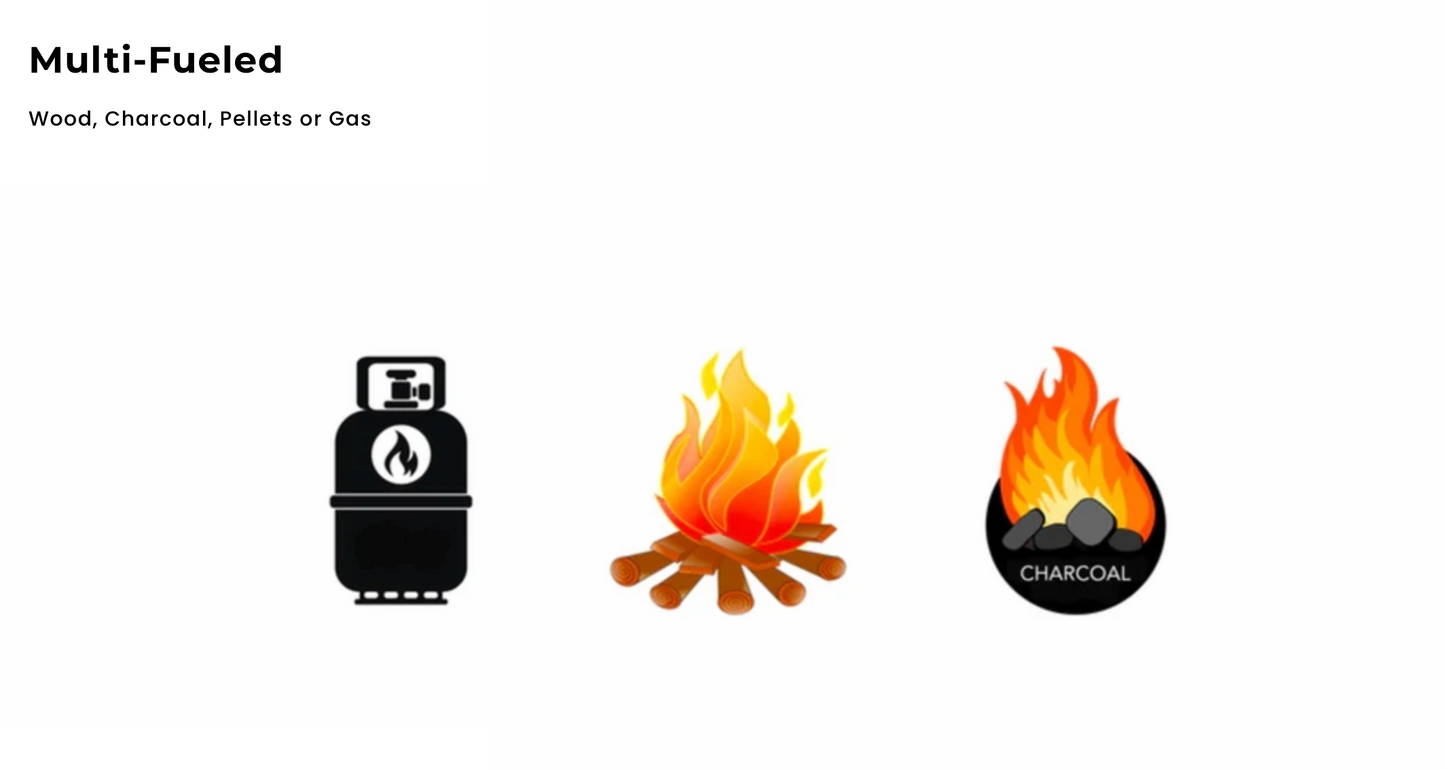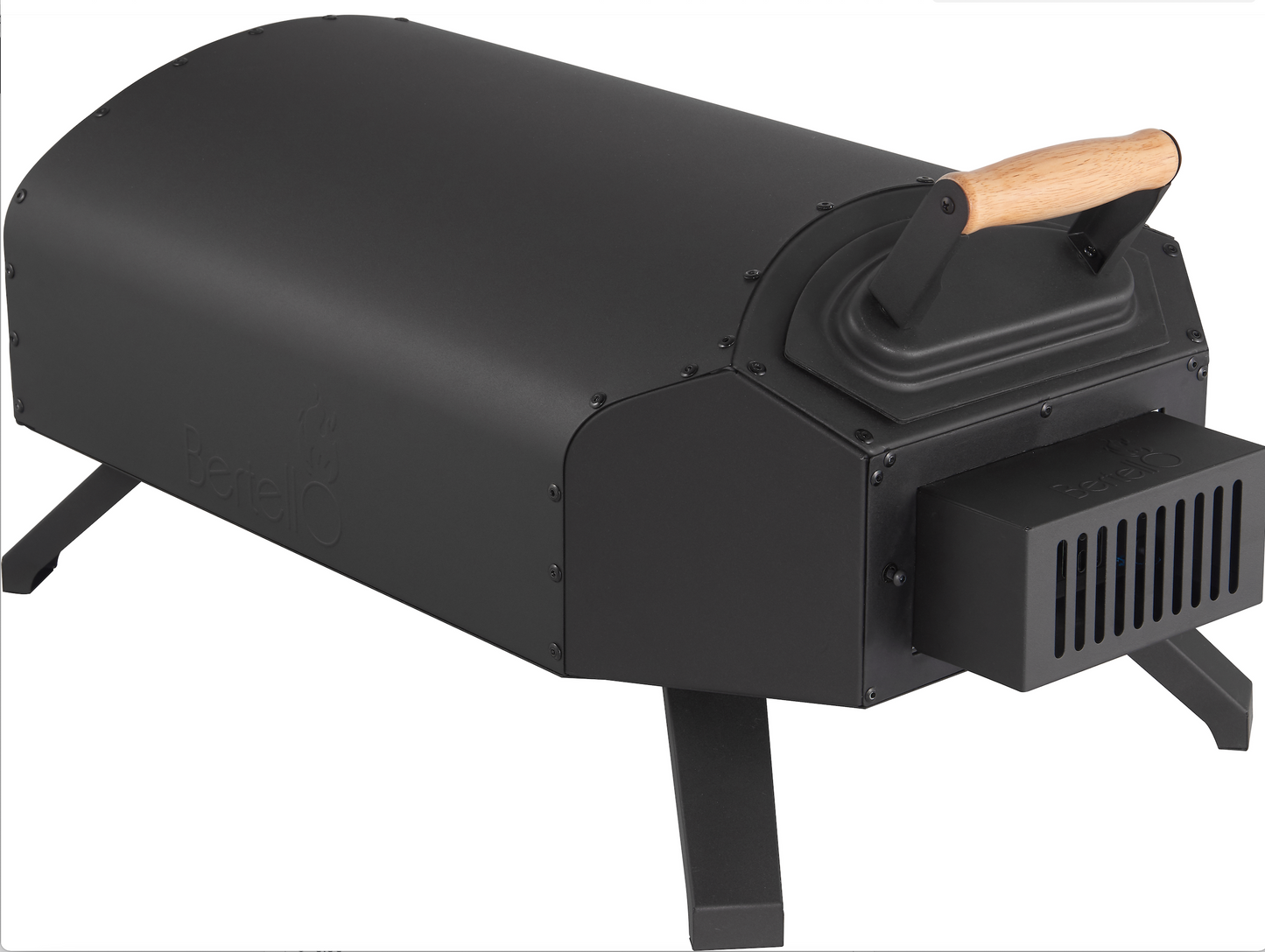 Product Details

What's In The Box

Technical Features

About Bertello
Product Details
Experience the apex of outdoor cooking with the Bertello 12" Multi-Fuel Outdoor Pizza Oven, your all-in-one solution for that authentic, wood-fired pizza flavor. Whether it's a casual family dinner or a lively backyard party, the Bertello oven is designed to bring professional pizzeria quality to your home cooking.
Versatile Fuel Options:
This oven is a powerhouse of versatility, offering a multitude of fuel options to suit your preference. Use wood kindling, wood chunks, or wood pellets for that traditional, smoky flavor; opt for charcoal for a more intense heat and rich aroma; or enjoy the convenience of a gas burner for consistent, controlled temperatures. For those who covet complexity, combine wood and charcoal, or wood and gas, to create a unique taste profile that will make your pizzas unforgettable.
High-Heat Performance:
With the capability to reach over 900 degrees, the Bertello Outdoor Pizza Oven ensures a perfect crust every time. This high-heat environment is ideal for achieving the coveted leopard-spotting on your dough, synonymous with authentic Neapolitan pizzas.
Wood-Fired Flavor Infusion:
After preheating with the gas burner, add wood to infuse your pizza with the unmistakable essence of a wood-fired oven. The scent of burning wood and the crackling sound as it combusts add a rustic ambiance to your cooking experience, making it about more than just the taste.
Quality Construction:
Durably built with high-grade materials, the Bertello Pizza Oven is designed to withstand the rigors of outdoor use while maintaining its sleek aesthetic. The compact design ensures it fits perfectly in any outdoor space without compromising on cooking surface area.
Efficient Design:
The Bertello Oven boasts superior heat retention and circulation, ensuring a perfect char. The fuel efficiency means you'll spend less time on maintenance and more time enjoying the company of your guests.
Portability and Convenience:
Take your pizza party on the go! The Bertello Pizza Oven's portable design makes it easy to transport, whether you're moving it across the patio or taking it to a friend's house. And with a straightforward setup process, you'll be cooking in no time.
Product Features:
Multi-fuel functionality: wood, charcoal, pellets, gas, or gas and wood simultaneously.
Reaches over 900°F for authentic Neapolitan pizza in minutes.
Optional gas burner attachment for ease and speed.
Add wood at high heat for a genuine wood-fired taste.
Compact and durable design with stainless steel construction.
Optimal heat retention and distribution.
Portable and easy to operate.
The Bertello Multi-Fuel Outdoor Pizza Oven is your ticket to gourmet pizza that's a cut above the rest. Whether you're a purist or an innovator, this oven offers you the flexibility to explore and perfect your pizza craft. Get ready to impress your guests and satisfy your pizza cravings with Bertello!
What's In The Box
Bertello 12" Outdoor Pizza Oven
Wood/Charcoal/Pellet Tray
Cordierite Pizza Stone
Gas Burner + Wood Tray for Gas Burner, hose and regulator
12" perforated Pizza Peel
non-contact infrared thermometer
Weatherproof Cover
Technical Features
Cooking surface: 13.39 x 12.36″ (34 x 31.40 cm)
0.6″ thick (15.25mm) cordierite pizza stone
Oven body made of powder coated carbon steel and stainless steel
Unboxed dimensions with gas burner attached: 30.6 x 14 x 13.9″ (77.7 x 35.5 x 35.4 cm)
Unboxed weight: 41.9 lbs (19 kg)
Boxed dimension: 25.98 x 17.91 x 17.32″ (66 x 45.5 x 44 cm)
Boxed weight: 50.7 lbs (23 kg)
About Bertello
About Bertello
Bertello became an instant hit after appearing on Shark Tank in 2020, and has since also felt the effects of a growing market for outdoor ovens.
The company manufactures its Bertello Outdoor Pizza Oven with an insert for charcoal and wood, which is a great option for those who love smoky flavors.
(Canadian Customers please visit our Canadian website here)
Hear from Our Customer
Reviews are viewed and verified before publication. Reviews marked with "Verified Buyer" were submitted by customers who purchased the item from our online shop.